I dreamt I was a buoy. I am swimming in the sea wanting to the lighthouse on the island. But something captivates me. Something draws me. I can not leave. I drift to the right. I drift to the left. Ships are passing by, letting their noise from them. "Take me with you!" I am left alone in the restless sea. The waves rear up, tower up over me and tumble down. I am at the same position every time. They told me I am the safety. I don´t have to fear. I am making perils under the water visible. I just want to walk with my feet. To feel my muscles when I set to my step. Under me the ground, sand between my toes.
In the darkness, the light shines between the waves. The lighthouse is not far.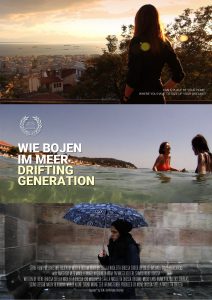 Long-Term Documentary from 2010 to 2016
A film by Stella Nikoletta Drossa
Can a place be your home, where you have to give up your dreams?
WIE BOJEN IM MEER follows a group of five women friends around thirty in Thessaloniki. As daughters of Greek guest workers in Germany, they returned to their parents' homeland. Today they are faced with the backdrop of a severe economic crisis and high unemployment in Greece. Some of them leave the city, yet fail to find happiness elsewhere. Others battle personal crises and strokes of fate. But the girls don´t give up. They fight to find their place in life.
The director is German-born to Greek parents. Berlin-based, she oscillates between two cultures. In intimate portraits, she tells the story of strong women and their quest to discover, who they are. And suddenly a dramatic experience situates the director in the middle of the Greek reality.
Director
Stella Nikoletta Drossa
Screenplay
Irene Drossa & Stella Nikoletta Drossa
Film Edit
Danis Karaisaridis, Calle Overweg
Cinematography
Stella Nikoletta Drossa
Music
Lars Brämer, Achilleas Sourlas, Maria Loloni,
Stefanos Tzirtziropoulos, danis k
Producer
Irene Drossa & Stella Nikoletta Drossa
Genre
Documentary/Drama
Country of production
Greece, Germany
Language
Greek, German with English subtitles
Duration
114'/ 92'
Year
2017
World Premiere
19th Thessaloniki Documentary Festival
Festivals
4th International Documentary Festival of Ierapetra Awards
32nd Independent FilmFest Osnabrück
11th Docfest - Greek Documentary Festival
4th Peloponnese International Documentary Festival
16th Dhaka International Film Festival
13th SEEfest South East European Film Festival Los Angeles
2018 Brazilian International Labour Film Festival / Mostra CineTrabalho
16e Festival International Signes de Nuit Paris
32nd Griechische Filmwoche Munich
17th International Festival Signs of the Night Bangkok
More Screenings
German School of Thessaloniki - 15.07.17
Bildungswerk Berlin of Heinrich Boell Foundation / Educational Tour Thessaloniki - 18.11.17
Bildungswerk Berlin of Heinrich Boell Foundation - 03.05.18
Theater O-TonArt / Klick Kino - 27.06.18
Museum of European Cultures - 13.09.18
Theater tri-bühne Stuttgart / Series Greek Films - 14.10.18
Cinema Zazie in Coop Heinrich Boell Foundation - 13.11.18
Bildungswerk Berlin of Heinrich Boell Foundation / Educational Trip Athens - 09.10.19
Cinema Lichtspiel Bamberg in Coop MIB - 20.10.19
Goethe Institute Thessaloniki / Heinrich Boell Foundation - 21.10.19
TV premiere
ERT3 - 01.02.18 / 29.11.18 / 24.03.19
Nomination
37th International URTI Grand Prix for Author's Documentary
Awards
2nd Award for Best Documentary Feature - Docfest Greek Documentary Festival
Director's Award - Docfest Greek Documentary Festival